Grenadier Trials!
Vince Valentine - The Arctic Ogre Lord's Clubs
*Vince glances around and smiles confidently, taking the list eagerly*
This is wha' i been waitin' fer....
Th' first o' me trials i was te complete on me own. I 'ad te go te the Ice Dungeon, an' slay three arctic ogre lords on me own!

Once i 'ad killed 'em, i 'ad te collect their clubs as proof o' me success.

As i made me way in, i were attacked by a horde o' ratmen, spiders an' puddles o' slime! They soon found 'emselves full 'o arrows an' i carried on me way.

Suddenly, i were face wit' a huge Lord! i steeled meself, and proceeded te attack.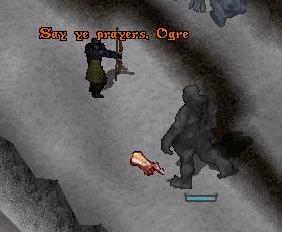 He' was nay match fo' me speed and skill with a bow, an' i was soon 'oldin' th' three clubs i needed.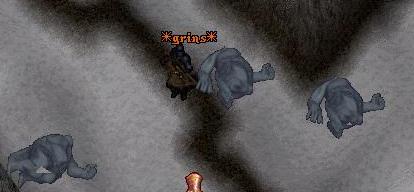 When i 'ad finished up, i left th' cursed place te rest up fo' me next trial
*signed*
Vince Valentine Junior Guardsman